There are many different opportunities for men to connect with each other and grow as followers of Jesus here at Christ's Church. We have ongoing groups and ministries specifically for men as well as special events including the annual men's retreat, hiking excursions and more.
CONQUER SERIES: THE BATTLE PLAN FOR PURITY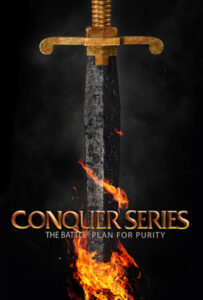 Christ's Church of Amherst is partnering with River of Life Church and the Nathan Project for this special opportunity to battle one of the greatest threats to the health of our men. Join us for the 10-week Conquer Series at River of Life Church in Amherst starting on Tuesday, September 14th at 6:30 pm. Whether you've struggled with pornography or not, this group for men 19-years or older will open up doors to help you grapple with the dangers of pornography and find a way forward for yourself, your children or your grandchildren.
Men's Bible Study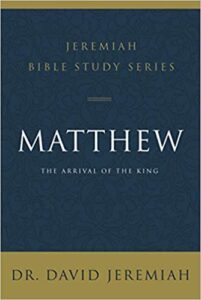 Join the men of Christ's Church this fall as they pick back up in the book of Matthew with a study led by Dr. David Jeremiah. This group of guys likes to dig deep, so come prepared to ask big and think hard. The Wednesday Morning Men's Bible Study meets every Wednesday morning from 9:30-11 AM starting on September 15th on site with a Zoom-in option for those who can't join in person. The study is structured in such a way that even if you were unable to be with us last year, you will have no difficulty jumping right in. Learn more about the current series and sign up HERE.
Men's Breakfast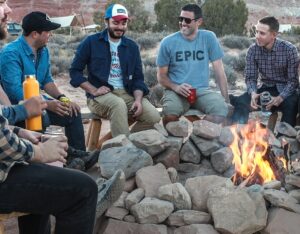 Christ's Church of Amherst and Bethany Covenant Church are partnering for a special Men's Breakfast on September 11th. All CCA men, their friends and sons aged 12 and over are invited. Special guest Michael Worsley will be speaking on the need for men to share the Gospel effectively using the story of their personal relationship with Jesus Christ. Rev. Worsley is a bi-vocational minister out of New Testament Christian Fellowship in Manchester, owner-operator of DEEP Cleaned hardwood floor refinishing and commercial cleaning company and a respected consultant and trainer working for the State of NH. Learn more and sign up HERE.
Theology on Tap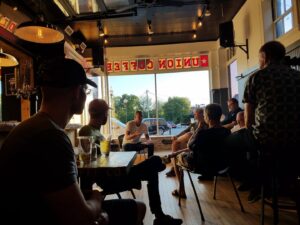 Theology on Tap is a joint effort led by the men at Christ's Church and Union Coffee in Milford, NH for everyone. This is a low-key opportunity for Christians and seekers to sit down, have a beverage and talk about a relevant theological topic. We generally meet every second Monday of the month at 7 pm and are currently in the process of relaunching for the fall of 2021. No need to register, just stop by. Visit the Facebook page to connect and see upcoming topics.    www.facebook.com/groups/theologyontapnh/
The Nathan Project
The Nathan Project is a ministry providing hope, leadership, training and a place of recovery for men who struggle with the compulsive use of pornography and sexual addiction, the spouses and ex-spouses of these men and the families trapped in this menacing cycle of addiction. Our own Rick and Vicki Kardos are the founders of this ministry and we are privileged to partner with them in this work. You can learn more about the Nathan Project and the support groups they facilitate around New England by visiting nathanproject.net.
Men's FACEBOOK PAGE
Connect with some of the men at CCA and get news about the latest events like men's retreats as they happen. Sign up HERE.