At Christ's Church we believe that intergenerational leadership is very important. That is why you'll often find our youth involved in ministries like kids connection and worship team. We also have youth-specific opportunities for our young people to connect with each other and with God.
SPECIAL EVENT: S'MORES & GAMES, SATURDAY SEPT 12th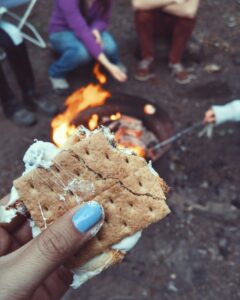 Join the CCA youth group at 7 pm on Saturday, September 12 at the church for some outdoor, socially-distant fun. We'll have a fire pit for making s'mores and will play some games. This event is for all 6th-12th graders. Rain date TBD.
Hope to see you there!
Monday Night Youth Group, 7-8:30 pm
CCA Youth is open to students in grades 6-12. A typical Monday night consists of snacks, games, praise & prayer, and a conversational Bible study. In addition to Monday night group, we also have many special events throughout the year including ultimate game nights, Christmas parties, winter retreats, the 30 Hour Famine and more.
To get connected or learn more about our youth group including meeting locations CLICK HERE.
Connect Online
If you are a student or the parent of one, we invite you to join our CCA Youth Facebook page. We use this page to post events, discuss different topics, share prayer requests and even stay in touch with students who have moved away.